Today was our last day in Japan. Tomorrow we set out, much heavier than before, to return to the States.
First, we headed to Tokyo Gransta (Grand Station, but they actually call it that! Makes me think of "Tokyo Gangsta") to do some last-minute money exchange.
By the way, they have some awesome escalators there that go horizontal momentarily:
We then went back to Harajuku for Bodyline. Before that though, we stopped at this crepes place called Angels Heart for breakfast.
Had a Double Chocolate Millefeuille Crepe which consists of cream, chocolate ice cream, some kind of crispy pastry thingy, chocolate sauce, and other diabetes-inducing awesomeness.
After letting my sister get her goth-loli on at Bodyline, we headed back to Akihabara so I could do my last-minute shopping.
First we went to Laox, a duty-free shop with lots of electronics and… stuff. Not really that interesting. We actually headed to a few places like that on the main street and all were about the same with cameras, household goods, and quirky souvenirs like a magic towel where the printed woman's clothes disappear when heated.
Headed to Melonbooks after under the Hey arcade which is also a place that specializes in doujinshi and similar stuff.
Got the 1st Sakippoi! tankouban doujinshi from Ashita wa Docchi Da! (exactly what I was looking for!) and some other doujinshi on sheer impulse.
We were getting pretty hungry around then so we went back to Go Go Curry! Turns out they have a Go Go Time! special from open to 5:55pm where the tonkotsu curry is at a reduced price. Got it and loved it.
Went to Animate afterwards to check it out. Got a lot of manga that I missed the first time around in Ikebukuro.
Rounded out my Fujieda Miyabi collection with the 1st volume of Twinkle Crusaders Nova, picked up what's probably my favorite yuri manga Strawberry Shake Sweet, Yuru Yuri, and Amano Kozue's new manga Amanchu!.
Really looking forward to Amanchu! since Aria was so good.
Animate has some awesome stuff, by the way. The one in Akihabara seemed to be twice as large as the one in Ikebukuro, with loads of goods for pretty much any anime/game/whatever. I saw this Saki mahjong set I really wanted, but it was already sold out…
Headed back to Toranoana afterwards to find Atelier Miyabi's artbook that I just recently realized the existence of.
Found it and got out since my money was running extremely low.
I'm too lazy to romanize it, but it's called 千紅万紫. Nanoha? Touhou? Iono-sama!? Hell yeah.
By this time I pretty much had only enough money to eat dinner and play at an arcade for a bit, so we went to the Hey arcade.
Holy. Crap. This place rocks.
They have a floor devoted to shmups! Well, it also has puzzle games. They have a Money Idol Exchanger machine!
Played some Deathsmiles 2, also. I'm not too sure I like all the 3D replacements for the sprites. Also, the A+B homing system thingy is weird. They also changed the level select system so you can't choose difficulty levels per stage.
Somehow, I got today's high score with Windia. It's a pretty sad score though, I blame not really knowing the new system mechanics.
Also played this doujin-game-turned-arcade-game called Trouble Witches AC.
I've played it on the computer before, but I guess the difficulty was turned up since I did pretty badly. They also took out all the dialogue! Not surprised, but kinda sad about it.
Went up to the next floor. Fighting games!!!
Rows of Street Fighter 4 machines:
BlazBlue: Continuum Shaft Shift (damn you ArcSys and your Rachel nerfs!)
Surprising amount of Rachel players still holding on to the dream there.
Quite a few Arcana Heart 3 machines, too.
They also had pretty much every Street Fighter in existence. They even had a Street Fighter: The Movie: The Game machine, 2 of them! Somebody was even playing one!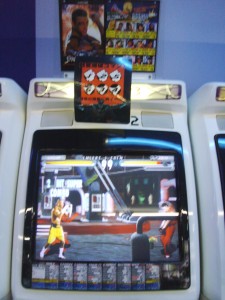 Yep, that's Van Damme at the top of that machine.
They also had 4 Melty Blood: Actress Again machines. Played for a bit and had my ass handed back to me by a Half Mecha player.
Around then I was about to eat into my dinner money. So we went back to the hostel with the intent of dropping off our stuff and heading to a nearby Yoshinoya.
Then it turns out we only paid for 7 nights and were staying for 8.
So we ran our asses back to Akihabara to exchange money to pay for the last night.
While we were there, we went back to Sushi Zanmai for a last dinner in Tokyo. Still delicious.
I had whale sushi while there. Not bad, it's kinda like eating a cross between fish and beef.
And now, it's time for adventures in packing!
…
(sob)