Hot springs are awesome. They're hot and spring-like. They also make great excuse for fan service are really relaxing and good for sore muscles and the like.
<spoiler>
There's no fanservice here.
</spoiler>
We all went to this town called Jiao Xi (礁溪), which really seems like a hot spring town to me. Kinda busy, kinda sleepy, and lots of hot springs, hotels, stores, and restaurants.
The hot spring we went to was part of this hotel called Chuan Tang (川湯春天). It's… really nice. Didn't actually stay in the hotel, but wandering through the lobby made me wish I had money.
It also has this awesomely inexplicable statue in front:
We paid the money and went into the changing/shower/locker room (no pics, but it's the men's locker room anyway). Did our business, and went into the expansive "bath" area which is actually made up of multiple sections, including a sitting area/food stand with TVs…
…a children's hot spring playground…
…a pond with goldfish that you're supposed to dip your feet into. The fish then eat the dead skin off your feet (it tickles, btw) and it supposedly has an exfoliating-like effect…
…a bath area with multiple types of baths, like a milk bath, quality alcohol bath (neither actually have milk or alcohol, btw), lavender bath, cold water bath, cold water bath with mahjong table, charcoal bath, sulfur bath, and others that I can't remember off the top of my head…
…and a spa area with lots of things that use water jets of varying pressures. For instance, they have these chairs with lots of water jets on them that spray and have an effect like a massage chair.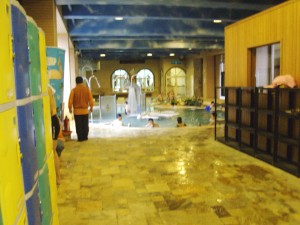 There's also a few saunas that have different "flavors" such as lavender, baked yams, and mint. I went into the mint one thinking it would be pleasant, but the second I went in, the minty mist pretty much burned my eyes and nose. My sinuses were really clear afterwards.
After soaking in the many hot springs, we went to go eat lunch at this Western-style place called Anderson Steak House (新平價).
Relatively pricey, but you get a whole lot of food for your money. Salad and bread (with a custard/milk/butter-ish filling) that we wolfed down too quickly for me to take pictures of.
Bowel of soup with a souffle over it:
Main coarse for me was a steak and squid surf-and-turf combo:
Dessert was a choice between coffee jelly, cake, or ice cream.
Overall, it's interesting to see how Taiwan treats Western food. Even the steak had a certain Chinese taste to it, probably due to the spices used in the marinating.
The door also makes sure you know that their beef is not American. US, you Mad?
We also went around the local shops, which mostly sell food and souvenirs, but of course Asian souvenirs tend to be food. There was this one store that had a very interesting ice cream stand with 4 interesting flavors: Tomato, Negi (Spring Onion), Pumpkin, and Taro (which actually is a common flavor in Taiwan, but hey…).
(sorry for the greenness of the picture, my camera sucks)
…I'm also starting to realize that taking pictures inside the hot spring was probably not a good thing to do… but… hey.