Been playing a lot of AH3, MvC3, and most importantly, Hyperdimension Neptunia recently.
Also, Madoka is easily the best show this season.
Also, Rasmus Faber's Platina Jazz Anime Standards Vol. 1 + 2 = amazing.
Geeky stuff that I'm hype about: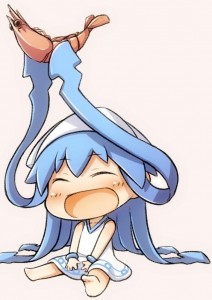 Ika Musume gets 2nd season
Shinryaku shinai ka? I'm happy about this.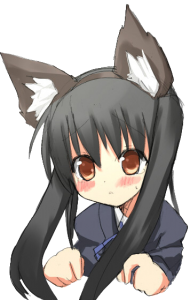 K-On manga restarting in the spring
Wait, aren't they out of high school already? I thought anime high school girls cease to exist outside of flashbacks? Then again, I would read/watch an anime entirely about Azunyan (lol Tamayura). Either way, I'm also happy about this.
K-on movie on Dec. 3
What is this even going to be about? Are the girls going to America and the US is going to feel ZA TREMBLE? ZA KEIONBU. Doesn't matter, I'm still happy about this.
Lucky Star – The Musical
What is this, I don't even- I'll still watch it. Actually, the Takarazuka did a Phoenix Wright (not Gyakuten Saiban, interestingly enough) musical. I still need to watch that! I'm also interested in what this will be about. My money is on the blossoming yuri love story that is KonaKaga. I'd be happy about that.
Also, pretty much everybody should watch this amazing youtube video featuring cellphones, Genki Sudo, and salarymen doing the robot.