We got up bright and early this morning to challenge the Waimanu Valley trail right next to the house we were staying at:
The trail was… a challenge. Despite being only about a mile in distance, it's apparently 25″ grade on average, which is ridiculously steep. We started about 2000ft feet up and got down to sea level in about a mile. Also, the "trail" isn't as much a "trail" as an un-maintained one-lane road that is uneven and rocky. Since it's a road, 4wd vehicles can actually go down it. And, since it had rained recently, the entire way was slippery as well.
The way down was extremely slow-going, as slipping and falling was really easy at certain parts. Though, one nice thing about the slow pace was that you could take your time to enjoy looking out into the valley and ocean:
There also seems to be a small farming village or something in valley?
When we finally got down, we found that we needed to walk about another mile or so to get to the beach. This walk was a closed road that appeared to have not been maintained in a really long time. Though, this road was thankfully flat and therefore so much easier than the preceding mile.
Eventually, we made it to the foot of the valley and the ocean:
Apparently near the ocean it's privately-owned land held by the Kamehameha School or something similar. Apparently things like camping are not allowed.
When we got down to the beach, there were already a few trucks parked there and a number of dudes surfing:
They also apparently set up camp at the lake nearby:
The lake there is quite picturesque, with sunlight down on the valley and everything and the lake streaming out into the ocean:
Also picturesque were the neat column of Hawaii John's portapotties just kinda sitting right there in the woods:
After admiring the ocean and lake and valley, we headed back up the ridiculously steep road. Surprisingly, it's actually easier to head uphill on this trail. It's definitely more tiring, but not having to worry about balancing yourself and potentially slipping and falling makes it much easier.
On the way up, vans shuttling what appear to be sightseers also started heading down the ridiculously steep, slippery one-lane road. This meant getting out of the way well ahead of time. These vans even went down with open doors so passengers could record the trip down:
It's hard to see, but the driver here saw me taking a picture and is actually posing with both of his hands in this picture. Kinda ridiculous. Kinda awesome.
After an arduous 45min or so of stairmastering our way up the slope, we got back to the house, showered, and started to make our way towards Hilo. Our route for today can be seen here in pink: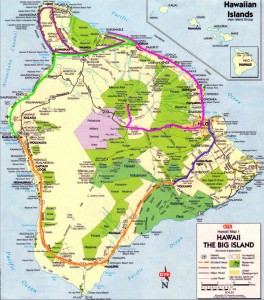 On the way, for whatever reason, there was this pickup truck in front of us with a dog just kinda surfing on top of it:
We stopped by Laupahoehoe Beach Park on the northeast shore of the Big Island to check out the awesomely blue water and the ocean scenery:
There were quite a few people there, also enjoying the scenery and taking pictures of the waves:
Walking around the area, there's a few weird things that are just kinda there. For example, I have no idea what this concrete thing was. A support beam maybe? Part of a building? But how did it even get there? Either way, it looks like the ocean has claimed it.
There's also this mysterious sign thing that just kinda looks out into the ocean. I think it's a navigation thingy for ships? Not sure.
After seeing Laupahoehoe (which is a lot of fun to type, btw), we also visited a scenic drive near Hilo that was… meh. I didn't take any pictures mostly because I was driving.
Getting into Hilo, we stopped by a tourist/shopping center to grab some lunch:
Hilo's the biggest city on the Big Island, and it was… kinda weird to see so many cars and people after spending time in national parks and beaches and the like.
We stopped by a place called Cafe Pesto that had a whole bunch of people there. Even had a wait and everything.
I had a BBQ Shrimp pizza that was pretty damn good:
After checking in to our hotel and settling down for a bit, we headed up the mountains about 9000ft high to visit the Onizuka Center for International Astronomy (aka Great Observatory Onizuka).
Apparently, it's a pretty famous observatory up in the mountains of Hilo. Being really high (up about the rain clouds and everything), it was also really cold. Apparently, we had missed our chance to go up higher (about 12000 ft) where the actual telescopes are. So, we stuck around the visitor's center:
The visitor's center had a whole bunch of things on sale, such as hot chocolate and instant noodles. They also had useful warnings such as this:
Luckily, I never ran into (ha!) any of these invisible cows, but the thought is kinda scary. (And the warning is kinda awesome).
We headed back down into town before it got too dark (and my right ear popped from the change in air pressure, ow!) and got some dinner at a place called Ken's Pancakes that served pretty much everything. I got a Chili Loco Moco that more or less replaced the gravy with chili.