Gyoza, or Japanese pan-fried dumplings, hold a special place in my heart. When growing up, my family would sit around the kitchen table and roll together loads of 餃子 (jiaozi) which are essentially the Chinese equivalent of gyoza. After a while, my dad got an interest in breadmaking and started to also make the jiaozi shells from scratch.
So after watching the 6th episode of Amaama to Inazuma, I really wanted to try making gyoza from scratch, including the shells. I also really wanted to try making tebasaki gyoza (chicken-wing stuffed with gyoza filling) like Yagi makes.
Since the anime episode didn't include a convienent recipe to screencap and follow, we'll be following (a somewhat altered) version of the manga recipe.
All-in-all, I'll go over 4 different types of gyoza: normal pan-fried gyoza, boiled sui gyoza, baked tebasaki gyoza, and fried tebasaki gyoza. The normal gyoza dumplings can be either fried or boiled (growing up, my family normally boiled them, in Chinese it's called 水較 or shui jiao). Tebasaki wings seem to be normally grilled, but since I don't have access to a grill, I decided to try baking and frying them.
Ingredients (makes about 24 gyoza, enough for a small-ish gyoza party*)
*Or in my case, a solitary gyoza party that will span multiple days.
Shell dough:
All-purpose flour – 200g
Water – 100mL
Salt – 2g
Filling:
Part A:
Cabbage leaves – 0.25lbs (About 1/8th a head of cabbage)
Napa cabbage leaves – 0.25lbs (About 1/4 a head of napa cabbage, the stalks will be removed)
Salt – 1 tsp
Part B:
Green onions – 30g (About 2 bunches)
Ginger – 8g (About 1/2in knob)
Garlic chives (nira) – 60g (About a handful of chives)
Part C:
Ground pork – 0.5lbs
Soy sauce – 1.5 tbsp
Sake – 1.5 tbsp
Sesame oil – 3 tsp
Salt – 0.5 tsp
Water – 2 tbsp
Tebasaki Gyoza:
Chicken wings – (as many as you want, but must be full chicken wings including wing-tip)
Baked tebasaki marinade:
Sake – 1 tbsp
Soy sauce – 2 tbsp
Fried tebasaki seasoning and glaze:
Potato starch – enough to cover wings
Salt and pepper – enough to season wings
Soy sauce – 1 tbsp
Sake – 1 tbsp
Mirin – 1 tbsp
Brown sugar – 1 tbsp
A few notes about this recipe:
I scaled up the recipe to be based off of 1/2 lbs of ground pork since that's easier to get in the US.
As with the doughnuts recipe, we'll be substituting all-purpose flour for a mix of strong and weak flour.
We'll be going with a roughly 1-to-1 ratio of ground pork to cabbage/napa cabbage. The manga recipe calls for 1-to-1-to-1 ratio of ground pork to cabbage to napa cabbage. That seems excessive in the not-meat category (also most gyoza recipes do a 1-to-1 ratio of pork to cabbage anyway).
Although we'll be doing a 50/50 mix of cabbage and napa cabbage, this results in quite a bit of both left over. It's definitely easier to just use one or the other.
I use Taiwanese cabbage instead of normal cabbage, but either way is fine.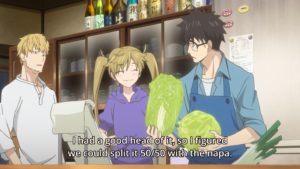 This recipe will be divided into 3 parts: preparing the gyoza shell and filling, making gyoza and sui gyoza, and making baked and fried tebasaki gyoza.
Shell and Filling Recipe:
Start making shell dough by slowly mixing salt water into flour. Form a ball with the dough.
Mix the salt into the water and slowly pour it into a mixing bowl with the flour while mixing.
Keep mixing while pouring (and afterwards), the dough will start to clump up. Once the dough clumps up enough, form a ball with the dough with your hands (it might help to dust your hands with flour first).
Knead the dough about 100x and then let sit in a plastic bag for 30min.
Prepare a working surface by dusting it with some flour. Take the dough ball and knead it about 100x. Feel the burn.
After kneading, put the kneaded dough into a plastic bag and let it sit for 30min to rise.
Filling Part A: Mince cabbage and napa cabbage, then mix with salt to dehydrate. Let sit for 15min.
While waiting for the dough to rise, time to start making the gyoza filling (called an).
Take the cabbage and napa cabbage and mince it up into fine pieces. The cabbage is pretty straightforward, just don't include any parts of the core:
For the napa cabbage, cut off half of each leaf, removing most of the stalk and keeping the frilly, leafy parts:
Once it's all minced as finely as possible, mix in the salt and let it sit for 15min. The cabbage pieces will start to release water. The goal is to dehydrate the cabbage pieces in order to have less soggy gyoza later.
Mince Part B of the gyoza filling.
While Part A is chilling, mince the green onions, ginger, and garlic chives in Part B of the filling. Make sure to remove the ends of the green onions and chives.
Strain water from Part A.
Once Part A has sit for 15min, take a clean kitchen cloth or some cheesecloth (maybe even paper towels?) and strain the cabbage of excess water.
Mix Part C in a bowl and mix in Part A and B. Let filling sit in fridge.
Take everything except the sesame oil in Part C and mix it together in a large bowl. Then add in Part A and B and the sesame oil and mix everything thoroughly with your hands.
Once mixed, let the filling chill in the fridge.
Divide dough into two parts. Roll each half into a cylinder.
At this point, the dough should have finished rising. Prepare a working surface by dusting it with flour.
Divide the dough into two parts and roll each part into a cylinder. The cylinder should be fairly narrow, maybe 1/2in in diameter?
Cut cylinder into small parts and dust with flour.
Cut up each cylinder into parts, about 1/2in thick and dust each piece with flour. There should be about 12 pieces per cylinder.
This is a good time to admit that when I did this part, I made the pieces way too big (about 1in thick, I got 6-8 pieces when I should've gotten 12 per cylinder). This resulted in huge shells and jumbo-sized gyoza. Not bad for a hungry person like me, but not for everyone.
Flatten each dough piece with rolling pin into a thin circle. 
Take a piece of dough and flatten it with your palm. Pretend you're Akuma doing the Kongou Kokuretsuzan (KKZ).
Take a small rolling pin and roll out the flattened dough horizontally and vertically. Try to make a circle.
Repeat this until all the pieces are turned into gyoza shells!
Watching Yagi do it in the episode actually helps quite a bit:
Filling and cooking gyoza by pan-frying or boiling (sui gyoza):
This portion is to complete the gyoza by filling the shells with the filling and then cook via pan-frying or boiling (sui gyoza).
It helps to have a gyoza-making station for this with a bowl of water, a bowl of filling with a spoon, a plate with the gyoza shells, and a plate to place the finished gyoza.
Again, it also helps to watch Yagi do it:
Fill each shell with a spoonful of filling.
Wet the edge and fold the shell in half. Crimp the edges into pleats.
Dip your finger in water and wet the edge of one half of the shell. Fold the shell in half and seal the edges.
Crimp the edges by making multiple small folds, about 4-6 little pleats (like a skirt).
Don't forget to add a ribbon!
To pan-fry the gyoza, heat a pan with oil over medium-high heat. Pan-fry gyoza for about 2min.
This is to pan-fry the gyoza which is the normal way to cook them. Start by heating some oil in a non-stick pan over medium-high heat. Once the oil starts to shimmer, add the gyoza.
Pan-fry for about 2min, the bottom should turn golden brown.
Pour in about 1/2 cup of water and cover the pan. Let the gyoza steam for 3-5min. Remove and serve!
Once done pan-frying, add about 1/2 cup of water and then cover the pan to steam the gyoza. Steam for about 3-5 min.
One cool trick you can do is to mix in about 1 tsp of cornstarch or flour into the water. This will add little "wings" to the gyoza like you might see at a Chinese restaurant.
Once done, serve the gyoza immediately with some dipping sauce. Enjoy!
To boil sui gyoza, boil some water. Place gyoza in water for 3-5min. Remove and serve!
To make sui gyoza, it's as easy as just boiling some water. Optionally, you can also flavor the water with some chicken bouillon and soy sauce.
Once the water boils, place the gyoza in and let it boil for about 3min. Then remove and serve!
Tebasaki gyoza (baked and fried):
Unfortunately, neither the anime nor manga go into how to make the tebasaki gyoza (chicken wing gyoza) that Yagi makes in the episode. Luckily, it's not too complicated. It's essentially just deboning chicken wings and then stuffing the wings with gyoza filling.
Before we start, I'd like to mention that tebasaki-style chicken wings normally include the wing-tips, unlike most chicken wings in restaurants in the US. Look out for that when you're buying chicken wings. I ended up just buying full chicken wings with all three parts:
I removed the drumette (the right part) and kept the wingette and tip for this recipe.
De-bone chicken wings.
First, break the joint between the wingette and the tip by twisting the joints in the opposite direction they should go.
Then remove the small bone in the wingette by pulling and twisting. It might help to cut away any tendons that are attached to the bone.
Next is to remove the large bone. There are a lot of tendons that connect the bone to the surrounding meat. I found that using kitchen shears makes this part much easier. Twist and pull the bone out.
This part is probably the hardest part, but I found watching somebody do it really helpful:
Fill the chicken wings with gyoza filling.
Take a spoonful of the gyoza filling and stuff it into the deboned chicken wing. Keep going until the wing is fully-filled.
Prepare the wings by marinading or seasoning. Let sit in fridge for 30 min.
If baking the wings, mix together soy sauce and sake and cover the wings. Move to refrigerator and let sit for at least 30 min.
If frying the wings, season the wings liberally with salt and pepper. Move to refrigerator and let sit for at least 30 min.
To bake the wings, set the oven to 360F and bake for 15min. Remove and serve!
Baking the wings is as simple as just baking the wings for 15min at 360F.
After the baking is done, remove and plate and serve immediately. Enjoy!
To fry the wings, prepare glaze in a small pot.
Combine soy sauce, mirin, sake, and brown sugar in a small pot and simmer until bubbling.
Once it's simmered, let the glaze cool and set off to the side.
Initially fry the wings for 10min at 320F. Then fry for 3min at 375F.
To fry the wings, we'll use a double-fry approach.
Before frying, coat the wings with a thin layer of potato starch.
The initial frying is at 320F for 10min.
After the intial frying, remove the wings and let the oil heat up to 375F. Fry again for 2-3min.
After the second frying, move the wings to the pot with the glaze and cover.
After glazing the wings, plate and serve. Enjoy!
(I prepared two each but was too hungry to let one of the baked tebasaki gyoza sit :9)
Thoughts after finishing:
Making gyoza feels very nostalgic, especially filling and wrapping the gyoza.
Making the gyoza shells was actually not as much work as I was expecting. Maybe it's because I screwed up and made shells that were too big, reducing my total number of shells to make? Either way, there definitely is a difference between store-bought and home-made gyoza shells (just like noodles).
Between baked and fried tebasaki gyoza, baked is definitely much easier to make. It's hard to go wrong with fried chicken though. My glaze could use some work, I made it in a bit too much of a hurry so it didn't reduce as much as it could have. I wish I had access to a grill (or grill pan) so I could see how grilled tebasaki tastes…